Kristen Richards, 1952-2021

By Tami Hausman, PhD
July 1, 2021
Kristen Richards Hon. AIA, Hon. ASLA, creator, co-founder, curator and editor-in-chief of ArchNewsNow.com (ANN), passed away on July 1, 2021. She died peacefully after a short battle with cancer. Her husband of 20 years and co-founder of ANN, George Yates, was by her side.
Since February 2002, Kristen made ArchNewsNow.com into a formidable and inimitable voice in the design industry, propelled by her dual love for design, and communicating about design, to various constituents inside and outside the industry. Long before architects were accustomed to social media and design blogs were commonplace, Kristen established a relevant space for architecture on the internet that was easy to navigate and always provocative. Prior to starting ANN, she was editor-in-chief of DesignArchitecture.com for two years.
With passion and perseverance, Kristen delivered a compendium of newsy, need-to-know design information—about projects, events, trends and, of course, people—from all over the globe. It was the daily bible for the design industry that included some 16,000 followers, including architects, landscape architects, interior architects, architecture-related consultants, students, marketing professionals, and journalists. Design practitioners and professionals relied on it. AIA New York hosted a party in 2012 honoring ANN's first successful decade, with over 100 people in attendance, including friends and colleagues who travelled from distant points to celebrate with Kristen.
Having one's work profiled in ANN was a mark of accomplishment, made all the more rewarding because it was prefaced by a mention in Kristen's "editor's note" that was descriptive, witty and succinct. Getting placed on ANN was also a coup for writers who sought validation in Kristen's endorsement. Most important, she methodically identified each publication, writer, architect, and often the top consultants, giving them all the consideration of equal billing. The site, each month, got one million hits. She eschewed advertising, preferring to provide the information to everyone free of charge.
ANN was Kristen's labor of love. Each morning, she got up early to review articles collected from some 300 local, national, and international publications to select the ones of most interest to herself and, presumably, her readers, hoping to get the newsletter in subscribers' inboxes at the start of the workday. A proprietary AI-based search engine, designed by George, pulled key stories in real time from international news sources. Close friends and editors knew not to try to reach her before 9:00 am EST. "I'll call you after I get ANN out the door," she would say. Or, if she was taking a much-deserved day off, she would make sure readers knew when to expect the next newsletter with a reminder that "we'll be back Wednesday, March 10" or the like.
Kristen also used ANN as a platform for feature stories about new projects, Q&As with industry leaders, book reviews, and trends. According to the description that Kristen posted on the website, she highlighted "big-picture takes on what's happening in the world, finding synergies between architecture, landscape architecture, urban design, environmental issues—and everything else that has an impact on the built (and sometimes not-built) world."
But for those who knew her work, they also knew that ANN was the proverbial tip of Kristen's design iceberg. In addition to ANN, and among her many accomplishments, Kristen was responsible for reviving Oculus, the print publication of AIA New York—the same year that she launched ANN and continuing through 2016. For several years, she simultaneously edited its digital cohort, e-Oculus. When assigning a story to a writer, she would frequently send a list of resources to get him or her started on the assignment. Uncannily, she would pull these snippets from the depths of some vast tickler file that she constantly replenished with new information for use at some later date.
For years, Kristen was ubiquitous at the Center for Architecture, typically wearing some combination of red and black, no matter the season, with a big smile, ready to be intrigued or wowed by this-or-that presentation by this-or-that firm. Former AIA New York Executive Director Rick Bell says, "I had the great privilege of working with Kristen on each and every issue of Oculus from May of 2003 until the Spring of 2015, and…the word that stood out was 'fun.' Kristen enjoyed what she did – bringing attention to architects and designers and their projects—and she did it so well. To Oculus she brought verve and color, as she did to everything she touched or thought about." Before Oculus, she was a features writer and news editor at Interiors magazine for 10 years.
Whenever Kristen was scheduled to meet with an architect or landscape architect—frequently over drinks or lunch—she would get giddy with delight. Acting more like a groupie than a reporter, her enthusiasm would spill like milk, although the drink was frequently vodka.
In addition to her work for the AIA, she was honored with Honorary Membership in the AIA in 2011. Tony Schirippa, FAIA, said in his introduction to her application that "Kristen is universally acknowledged as an enlightened communicator, bringing the importance of design and the best examples of architectural excellence to our doorstep." Three years earlier, in 2008, she had received Honorary Membership by the American Society of Landscape Architects, "in recognition of her significant achievement and contribution of notable service to the profession of Landscape Architecture." With as much interest in buildings and the spaces around them, she was a staunch supporter of socially and environmentally just places for all.
Kristen was an honest critic—personally and professionally. An astute editor, she was also an exacting copyeditor who improved many a story or book. Whether talking to colleagues or friends, she was as candid with criticism as she was generous with praise. She always stuck to her convictions and purpose, and made sure that her colleagues did likewise, without compromise. Kristen mentored many upcoming writers and especially supported emerging talent in design.
Praise for Kristen was universal. She was always gracious and always grateful. Her enthusiasm, knowledge, and dedication only drew admirers. Among her many professional awards were AIA New York's Harry B. Rutkins Award for Service to the Profession and a President's Commendation for "extraordinary vision and focus (and) for charting new paths through electronic communications," as well as a Media Honor Award from SMPS-NY.
Kristen wasn't all work, though. To keep current with what was happening in New York, she would gather one or two like-minded design aficionados for an afternoon of "playing hooky," her SLR camera always at her side. This usually entailed a meandering walking tour of new projects in New York City and a discussion of their merits fueled by vodka gimlets at the Art Bar. Although she never seemed to stop posting and writing about design, she was just as comfortable getting her hands dirty in her beloved garden as she was putting her finger on the pulse of the latest trends. And beware if you were a cat person: she loved circulating funny cat videos and adored her two photogenic felines who often graced the front of her handmade New Year cards (very analog, for a digital doyenne).
Her affinity for cats must have been instinctive. Kristen herself, like a cat, had nine lives. She grew up in New Paltz, New York, on her grandparents' dairy farm. Her interest in theater took her to Carnegie-Mellon University in Pittsburgh which she ditched for New York's theater scene. She subsequently co-founded the Impossible Ragtime Theater, an award-winning theater company, acted in plays, and worked in the theater on and off Broadway. During a summer break in Greece, she appeared in ads as the Greek "Breck" girl and also in movies. After going to Rome for a short visit, she decided to stay for three years.
When she came back to the United States, Kristen started her eponymous fine arts gallery in New York. She was founder and executive director of National Art Source and Services (NASSCO), an art resource for architecture and design professionals with 14 showrooms that supplied everything from inexpensive framed prints for hotels to 16th-century tapestries for corporate collections.
Kristen is the author of Retail and Restaurant Spaces: An International Portfolio of 41 Designers and the editorial consultant for Cocktails and Conversations: Dialogues on Architectural Design and Iconic Buildings: An Illustrated Guide to the World's Most Remarkable Architecture, by Studio Esinam. She also contributed to New York Dozen: Gen X Architects, and Architecture: Celebrating the Past, Designing the Future. She also wrote articles for multiple publications including Architecture, Hospitality Design, Interiors, Landscape Architecture, Long Island Newsday, Slate, What's New in Interiors, The World of Interiors, and World Architecture Review (China).
Kristen Richards was a tour-de-force in the world of design—a bellwether for the industry, a longtime champion for sustainability, and a cheerleader for established architects and young practitioners alike. She connected ideas and people. Kristen saw good design as the catalyst for opening her audiences' eyes to big possibilities, the optimism of a better future, and the serenity of discovering joy.
(click on pictures to enlarge)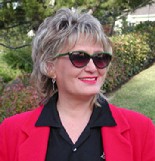 Kristen in Hollywood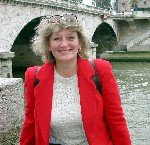 Seine River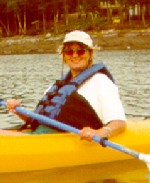 Maine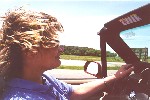 Favorite Seat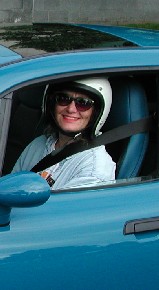 Track Day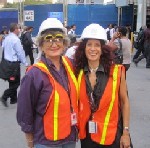 Daniel Urrutia
With Tami Hausman, World Trade Center, New York City, August 2011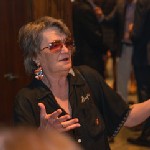 Aislinn Weidele
Four Seasons Restarant, New York City, June 2016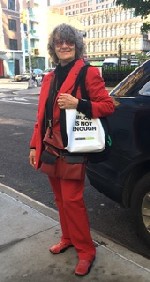 Tami Hausman
Greenwich Village, New York City, May 2019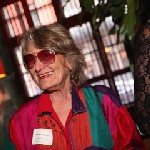 Tom Stoelker
Indochine, New York City, May 2018