"rise in the city" UPDATE: Top 10 Artists Announced for the Inaugural Fundraiser in New York City on October 25

Lesotho, Africa, comes to NYC through art created and donated by architects, designers, artists, and sponsors from around the world.


By ArchNewsNow.com
October 19, 2017
EDITOR'S NOTE: ArchNewsNow.com is delighted to serve as a media partner for "rise in the city" on October 25! And we are pleased to offer ANN readers a 10% discount on tickets ($135 instead of $150 per ticket; $1,080 instead of $1,200 for a table of 10) using the code ARCHNEWS2017 – or, better yet, click here for ticket order form with discount already included. We hope to see you there!
As we reported in late September, the non-profit Relationships Inspiring Social Enterprise (rise) is hosting "rise in the city," a fundraiser for the organization's inaugural project "in loco," an architectural design-build training program that includes the refurbishment and upgrading of the orphanage God's Love Center in Lesotho, Africa.
For the event, architects, designers, and artists from 15 states and 11 countries have created more than 75 amazing pieces of art, from paintings and sculptures, to photographs and fashion. The challenge was to create a piece of art that represents one block of Manhattan, as well as inspiration from Lesotho.
All of the artworks will be on view at the landmarked (and awesome!) Angel Orensanz Foundation for the Arts in New York City on October 25, from 7:00 to 11:00pm.
The evening will include a live auction of the Top 10 pieces – pictured at right. The other artworks are currently being auctioned online through October 25. 100% of the proceeds will go to the Lesotho project to cover construction costs for a dormitory and a study area at the currently overcrowded orphanage.
The overall winner will be announced at the "rise in the city" event. The Grand Prize is a 10-day trip to Lesotho to take part in the international in loco workshop. Learn more here.
The jury, which included Michael Sorkin, Michael Sorkin Studio and Terreform; Laura Starr, FASLA, AIA, LEED AP, Starr Whitehouse Landscape Architects and Planners; Jack Travis, FAIA, NOMAC, Jack Travis Architect; Suzanne Mecs, Hon. AIA NYS, AIA New York Chapter; and Oliver Needs, BOND Events, had the tough job of selecting the Top 10.
"In total, an astounding 3,000 hours have been dedicated to producing these amazing creative art pieces, blending two such contrasting places. We are really impressed with the caliber and variety of artwork that will make for a very inspiring and thought-provoking exhibit." says Daniela Gusman, co-founder of rise.
Gusman teamed up with Oliver Needs, president of BOND Events, to found rise in 2016. BOND's Corporate Social Responsibility Program underwrites rise's operational costs so that it can be a self-funding organization. Through its professional network in the architecture and design industry, it combines architecture with social enterprise to provide essential resources otherwise unavailable in vulnerable communities, like Lesotho, in sub-Saharan Africa.
A partial list of firms contributing art:
Architecture in Formation
Arquitectonica
Audrey Matlock Architect
Boka Powell
Budi Pradono Architects
David Ling Architect
DLR Group
EDSA Inc.
Gensler
Grimshaw Architects
HLW International
IA Interior Architects
Perkins+ Will
Rogers Partners
Studio O+A
A partial list of Top 10 Block Sponsors:
Humanscale
Jouffre / Ateliers Créatifs
Saatchi Art
Oakheart
PI Fine Art
TriPyramid
A partial list of other participating Block Sponsors:
Architectural Grille
Cerami & Assoc
Classic Woodwork
Clark Construction
Dorma
ESG
FSB
Mohawk
Schindler
(click on pictures to enlarge)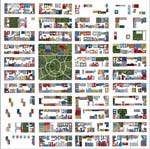 Studio Joseph / rise
Wendy Evans Joseph with Elnaz Rafati, Studio Joseph: "Shared Fabric" (digital image printed on fabric, 28" x 28")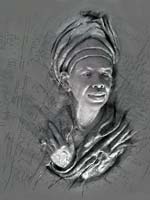 BOKA Powell / rise
Abiy Dejene, BOKA Powell: "Mother Lesotho" (plaster relief sculpture, 24" x 30")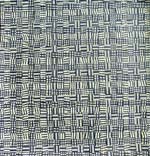 Studio O+A / rise
Verda Alexander, Studio O+A: "Pattern City" (silkscreen on paper, 24" x 24")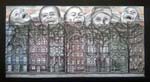 DPA&D Architecture and Design / rise
Claudio Pardi, DPA&D Architecture and Design: "Embrace the Children" (graphite pencils and ink on paper, 26.77" x 13.78")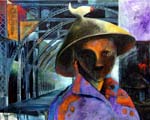 Juan Ramiro Torres / rise
Juan Ramiro Torres, artist: "Wanderer" (acrylic on canvas, 30" x 24")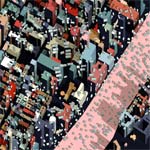 mr Studio / rise
Jonathan Rieke + Emily Mohr, mr Studio: "Scaling the Cities" (ink on vellum, 28" x 28")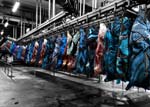 Audrey Matlock Architect / rise
Audrey Matlock, Audrey Matlock Architect: "Beauty and the Beast" (print, 24"x 35" with frame)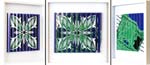 Bilkey Llinas Design/PI Fine Arts / rise
Karina Moran & Justin Pape, Bilkey Llinas Design/PI Fine Arts: "Weaving Paths" (custom lenticular art on giclée matte paper, shadow box frame, glass, 30" x 30" x 2 1/4" deep)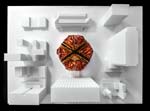 re: Humanity / rise
Evan Yan, re: Humanity: "The Gift" (model, 17" x 23.25" x 9.25"h)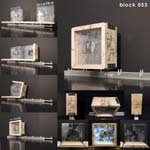 Lawrence Group / rise
Kevin Le, Lawrence Group: "my brother's keeper" (engraved acrylic, burned oak, stainless-steel hardware, LED tape light, magnets, 26.5" x 9.5")