2017 AIA Architecture Firm Award Winners: An Interview with Bill Leddy, Marsha Maytum, and Richard Stacy of LEDDY MAYTUM STACY Architects

"Our track record of pushing to make a difference shows that a small firm can make a difference." - Marsha Maytum


By ArchNewsNow.com
April 27, 2017
The American Institute of Architects (AIA) has named LEDDY MAYTUM STACY Architects winner of the AIA Architecture Firm Award for 2017. Before they headed to Florida to receive the award at this year's AIA conference in Orlando, we caught up with cofounders Bill Leddy, FAIA, LEED AP, Marsha Maytum, FAIA, and Richard Stacy, FAIA, to talk about how a small firm like theirs, with a staff that hovers around 27, has had such a big impact. Having worked together for more than 30 years, they restructured the firm in 2001 to focus on projects that address advanced sustainability, historic preservation, and social equity.
Q: You've said you're a "mission-driven" practice. How do you define thatWhat does that mean to you?
Marsha Maytum: When we created the firm, we wanted to focus on projects that would make a difference. For us, "mission-driven" sums that up. It's bringing together our interest in serving our community, providing great design for everyone, and integrating sustainable design and appropriate environmental stewardship. It's about the power of architecture to make a better world. We believe that we, as architects, have the opportunity and the calling to make the world a better place, and that's what we're trying to do, in our own way.
Q: Your portfolio is fairly diverse – is that a deliberate decision?
Richard Stacy: Diversity at our firm stems from the background of the founding partners, who are generalists as architects and still believe strongly that the architect's role as a generalist is as relevant today as it always has been. That's drawn us to diverse project types, diverse clients, and a diverse staff. We encourage everyone in the office to have that generalist approach.
Bill Leddy: We try to bring a wide range of project types into the office because it makes work more interesting. And it attracts a great staff to work with us. We try hard to make sure that we have a wide range of voices in the office.
Q: What could other architecture firms, especially small ones like yours, take away from your example?
Leddy: We're a small firm, but we have big aspirations beyond simply doing beautiful architecture. We hope that we've become an example of a small firm that can leverage the power of design toward larger societal goals. Sometimes we architects get caught up in simply designing the most beautiful single-family home, and that's great. That's our tradition. But by itself, that might not be enough to fulfill architects' responsibilities as global citizens.
Maytum: Our track record of pushing to make a difference with each type of project, whether it is educational work or affordable housing or cultural or other community projects, shows that a small firm can make a difference. We also believe that a firm can be a teaching practice and help the new generation of architects take these values forward.
Stacy: I think we're doers more than we are speakers. As doers, we hope that our work can serve as an example to others – that regardless of size or location, you can make an impact on the world, if you're dedicated to it.
Q: Some of your buildings have required research to carry out – I'm thinking of the Ed Roberts Campus, which incorporates universal design principles, and Sweetwater Spectrum Community, which provides supportive housing for adults with autism. How does a firm your size manage the research component?
Stacy: Because we work for a lot of different nonprofits with different social missions, we can take research that we've done for a particular group and apply it to another. A good example of that would be the synergy between the Ed Roberts Campus and our affordable housing work. The lessons we learned from designing housing for formerly homeless folks, who often have physical and mental disabilities, informed what we did at the Ed Roberts Campus as a disability rights center. In turn, we took the innovations at that campus back to our affordable housing design as well.
Leddy: We are lucky enough to have projects that allow us, or require us, to do additional research, because many of these projects are the first of their kind. We try not to create something that is extremely esoteric or new or expensive. Typically, we draw on experts from other fields – it might be in human factors research, or sociological or psychological research – and apply existing technologies in a slightly new way, at a larger scale.
Q: How would you describe the firm's architectural style? Do you think of your work as Modernist?
Maytum: We don't believe in labeling architecture. Each project we design is a specific response to the site and the circumstances and our client's needs. Overlaid on that is a sense of environmental stewardship. We work in tight urban areas and outside of cities. We work a lot with historic renovation, and we also design new additions within important historic settings.
Leddy: Richard, Marsha, and I share a contemporary view of architecture in the sense that we have a high interest in craft, simplicity, and abstraction. We've always been allergic to the notion of style. We think our work is about more fundamental and substantive issues related to expressing a connection to place and a connection to the craft and materials of building. We're more interested in authenticity than in any "ism."
(click on pictures to enlarge)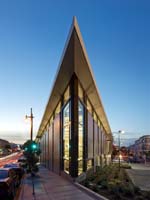 © Bruce Damonte
North Beach Branch Library, San Francisco: Built on a former triangular parking lot, the LEED Gold library creates a civic lantern for the community.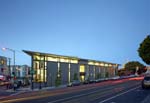 © Bruce Damonte
North Beach Branch Library, San Francisco: The two-story building includes double-height reading rooms and generous glazing.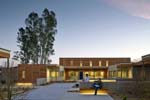 © Tim Griffith
Sweetwater Spectrum Community, Sonoma, California: A new national model for supportive housing for adults with autism. The Pacific Gas & Electric Zero Net Energy Pilot Project is designed to reduce energy use by 88%.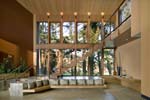 © David Wakely
Cavallo Point - The Lodge at the Golden Gate, Sausalito, California: A historic U.S. Army base at the foot of the Golden Gate Bridge has been transformed into a LEED Gold conference and retreat center, and is part of the Golden Gate National Park.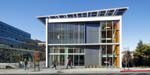 © Tim Griffith
UC Berkeley Jacobs Institute for Design Innovation, Berkeley, California: The LEED Platinum innovation hub for the College of Engineering provides a variety of flexible "maker spaces." (AIA COTE Top Ten Green Award)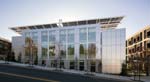 © Tim Griffith
UC Berkeley Jacobs Institute for Design Innovation, Berkeley, California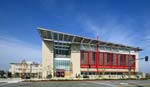 © Kyle Jeffers
Nueva School at Bay Meadows, San Mateo, California: The LEED Gold high school is conceived as a living laboratory to inspire student research into low-carbon, resource-efficient learning and living.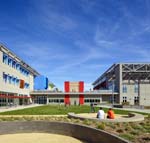 © Kyle Jeffers
Nueva School at Bay Meadows, San Mateo, California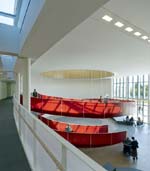 © Tim Griffith
Ed Roberts Campus in Berkeley, California: A community center that serves the Independent Living / Disabled Rights Movement includes offices for non-profit and governmental organizations, a fitness center, and a childcare facility.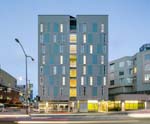 © Tim Griffith
Rene Cazenave Apartments, San Francisco: 120 mini studio apartments are permanent homes for formerly chronically homeless individuals. (AIA COTE Top Ten Green Award)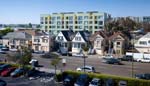 © Tim Griffith
Merritt Crossing, Oakland, California: A LEED Platinum development with all 70 apartments reserved for disadvantaged or formerly homeless seniors. (AIA COTE Top Ten Green Award)
© Tim Griffith
Merritt Crossing, Oakland, California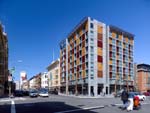 © Tim Griffith
Plaza Apartments, San Francisco: This LEED Silver model for green supportive housing provides permanent, dignified housing with on-site health and social services for 106 chronically homeless people.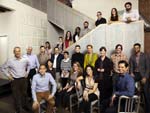 © Leddy Maytum Stacy Architects
Leddy Maytum Stacy Architects