ArchNewsNow.com delivers the most comprehensive coverage of international news, projects, and events in the world of architecture and design.
The ArchNewsNow (ANN) newsletter, launched in February 2002, is delivered daily to subscribers – free of charge – via e-mail. It hyperlinks directly to the latest news and commentary gleaned from sources around the world.
Original ANN feature articles on the home page and archives offer the first look at international projects by established and up-and-coming architects and designers. In addition, we offer an interesting mix of observations, opinions, and musings on a range of subjects written by industry leaders.
A proprietary artificial intelligence-based search engine identifies key stories available from international news sources on the Web almost as quickly as the sources release them. ANN's software development team is committed to keeping the Web site pages and the newsletter compact so the site will remain fast and the newsletter won't clog up electronic mailboxes. The flashing, blinking, and buzzing that interfere with reading so many sites now will not be any part of ANN.
In its first year, ANN was named 2002 Best Site in Architecture by Crain's Detroit Business, and has consistently made PLANetizen's annual Top 50 website list.
Co-founder and Editor-in-Chief Kristen Richards, Hon. AIA, Hon. ASLA, focuses on producing the very best newsletter and features possible. She seeks out and ties together big-picture takes on what's happening in the world, finding synergies between architecture, landscape architecture, urban design, environmental issues – and everything else that has an impact on the built (and sometimes not-built) world. She has written about the industry, the firms, and the personalities for more than 20 years.
Kristen wore her second hat, donned in January 2003 until 2016, as editor-in-chief of Oculus magazine, the quarterly journal of the American Institute of Architects (AIA) New York Chapter and, for the first three years, as editor of AIANY's electronic newsletter (formerly known as e-Oculus).
Prior to ArchNewsNow.com, she spent two years as editor-in-chief of the architectural webzine DesignArchitecture.com. This followed a 10-year tenure as news editor/feature writer for Interiors magazine, and as a freelance journalist and photographer for national and international design and business publications.
Kristen is also known throughout the AEC industry for her writing and photography expertise. She was made an Honorary Member of the AIA in 2011, and an Honorary Member of and the American Society of Landscape Architects (ASLA) in 2008. She has served on numerous design juries and conference panels for the AIA, ASLA, and the Society of Marketing Professional Services (SMPS). She is the recipient of the AIANY Harry B. Rutkins Award for Service to the Chapter and the Profession, and the SMPS-NY Media Honor Award.
In the book world, Kristen contributed an essay to Designed for the Future: 80 Practical Ideas for a Sustainable World, edited by Jared Green; wrote the foreword for New York Dozen Gen X Architects, by Michael J. Crosbie; penned AIA Gold Medalist profiles for Architecture: Celebrating the Past, Designing the Future, the AIA 150th Anniversary publication edited by Nancy B. Solomon; and authored "Retail & Restaurant Spaces: An International Portfolio."
Among her favorite things: hard-hat tours and championing young talent.
She can be reached at Kristen@ArchNewsNow.com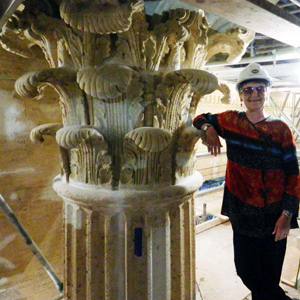 Photo: Paul French / Diamond Schmitt Architects, 2017
Kristen does Corinthian